First I must apologise for the long gap between this newsletter and the last. As many of you already know, I was unexpectedly offered the chance to teach a series of Creative Writing classes on board the liner Thomson Dream, sailing from Lisbon on November 23rd to the Caribbean. As I had already booked a short holiday in Spain from the end of October this meant that I have only been at home for a few days in the last two months. I took a tablet with me on the cruise, intending to keep in touch, but the internet connection from the ship was so slow that it proved impossible to upload even a simple e-mail.
The cruise itself was an interesting experience and a chance not to be missed. David and I were flown to Lisbon and back from Barbados free of charge and had a cabin on board the Dream and all the privileges of normal passengers. In return, I was expected to teach for an hour on the days when we were at sea. Technically this only referred to the six days crossing the Atlantic but the class was so enthusiastic that I ended up giving a total of eleven sessions. There were only fourteen passengers in the group but they were a delightful bunch, with a great collective sense of humour. We had a lot of laughs, but also got through a lot of basic exercises in the techniques of story telling. They all seemed to feel that they had gained a good deal. I offered a prize for the best short story at the end of the course and I was impressed by the quality of the entries. Two of them took the chance to have a tongue-in-cheek swipe at the attitudes of people on the ship, with hilarious results.
Aside from the work, we had the chance to visit seven islands. Many of the smaller ones quickly become blurred in memory – a general impression of blue sea, white sand and waving palm trees…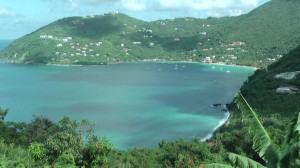 If you see what I mean. The most interesting were Cuba and Jamaica. In Cuba we visited a mountainous area which has become a conservation project, turning hillsides which had been deforested by charcoal burning into a lush, green paradise. Havana, too, was fascinating – vibrant life co-existing with faded colonial splendour.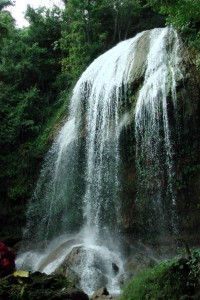 Street entertainers in Havana.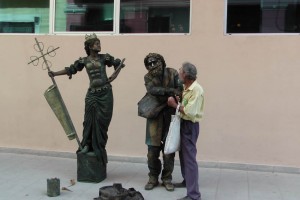 We also had the chance to visit the Mayan ruins of Chichen Itsa, while we were moored off the island of Cozumel. As someone who loves ancient history that was a definite highlight for me.
We got home on Dec 17th, so you can imagine it was one mad rush to be ready for Christmas but somehow by Dec 24th the decorations were up, the presents bought and wrapped. For the first time, I didn't have to cook for the family, as we were invited to my son Christopher's house for dinner – but I still had to cook the turkey as with 13 people to feed there wasn't room in his oven for that plus all the necessary veg etc. It was quite a logistical undertaking, getting it cooked and over to his place while it was still hot. Good job he only lives ten minutes drive away!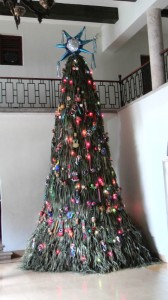 Christmas tree – Cuba style!
I got home to discover a note from the Royal Mail saying they had tried to deliver a package which had to be signed for. I was just in time to rescue it from the sorting office before it was returned to the sender and discovered that it was the proof copy of my next novel, APHRODITE'S ISLAND, from the publisher Robert Hale – plus a note saying would I please check it and return by Dec 5th! Cue hasty e-mails with my excuses. It's done now and the book will be out in the spring.
I also had an e-mail from Soundings – the company that produces the audio versions of my books. They are going to do OPERATION KINGFISHER and I had suggested that this time I might read it myself. They asked for a sample of my voice and are happy to go ahead, so I shall be doing that sometime in March or April. I have also been asked to give several talks about the research behind the 'Leonora' trilogy because of its relevance to the WW1 commemorations I shall be at the central library in Sheffield on April 8th and at the Ilkeley Playhouse on April 13th, among others. So if any of you are in the area, do come along and make yourselves known.
There are various other invitations awaiting final confirmation, so it looks like being a busy year.
My thanks to all those who have posted reviews of Operation Kingfisher – and best wishes to everyone for a happy and healthy New Year.