LIV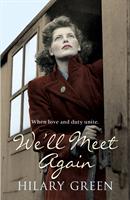 ERPOOL 1942.
Seventeen-year-old Frankie Franconi falls in love with charismatic British officer Nick Harper as quickly and certainly as the bomb that falls on their shelter.
He is impressed by her good looks and intelligence, and the fact that, like him, she speaks fluent Italian. When she insists on staying to help rescue others who have been trapped he realises she has courage, too. He gives her a business card with a Baker Street address, and suggests she put her skills to good use.
Within a month Frankie has joined the FANY and started her training. Stationed first in England, then Africa and finally Italy, Frankie and her fellow recruits work tirelessly decoding messages from agents in the field by day and enjoying wartime parties at night. But when she signs the Official Secrets Act Frankie has no idea of the danger, adventure and terrible choices that are in store.
'That is a copy of the Official Secrets Act. I must ask you to think most carefully before you sign, because afterwards, if you reveal anything that I am about to tell you, or that you might learn in the future, you could, not to put too fine a point on it, be put up against a wall and shot.'

'And suppose we refuse to sign?'

'Then you will leave this room at once and accept whatever duties your CO sees fit to assign you to. But – and this is the crucial point – in doing so you will have deprived your country of the full use of your not inconsiderable talents.'

Frankie's heart was beating fast. At last she could see some point to the drudgery of the last weeks. Whatever it was that they were not allowed to speak of, it must be something very important. She sensed that she was on the brink of the sort of adventure she had dreamed of when she immersed herself in the novels of John Buchan. She scanned the page in front of her rapidly and reached for her pen. 'Here you are, ma'am.'
WHAT READERS SAID ABOUT WE'LL MEET AGAIN.
'The most enjoyable book for ages'
'Such a wonderful and exciting novel. I found it hard to put down and didn't want it to finish.'
'I was gripped right from the start. The story became more and more enthralling.'
'I am nearly at the end of We'll Meet Again and have loved every bit of it.'
'Steeped in period detail …. packed with incident.' (Historical Novel Society) For the full review go to: http://www.historicalnovelsociety.org
For more information about the FANYs, who are still operational, go to http://www.fany.org.uk/