Occupied France is a dangerous place for two teenagers, especially when they are the children of a French mother and an English father. Desperate to escape and get back to England they take refuge on a canal barge and find themselves caught up in the complex Operation Kingfisher. There are plenty of forces at work determined to scupper any plans to get Allied airmen safely back to England and eyes are everywhere.
With clandestine operations mounting against the enemy the pair find themselves working with the maquis in the remote hills of the Morvan.
Hilary Green presents a thrilling foray into the underground escape routes and fugitive culture of World War ll in this new and electrifying novel, which is sure to delight her army of fans.
AVIS

SERVICE DE TRAVAIL OBLIGATOIRE

Luke read the notice over the heads of the little group of peasant farmers and petit bourgeois gathered outside the mairie. 'Obligatory work service'. He felt a tightening in his stomach, part angry resentment, part fear. The notice was signed by Pierre Laval, head of the nominally 'free' government in Vichy, but everyone knew that it had been issued at the behest of the occupying Nazis; just as they knew that it meant transportation to Germany to work in the armament factories, freeing German workers to join the army. As Luke headed home, a course of action he had been contemplating for some time hardened into a firm resolve.
Reader reviews:
I am always excited to see a new book out by Hilary Green. It amazes me that someone who writes such wonderful, gripping and exciting stories has trouble getting her work published when there are other authors out there who write terrible books and hit the bestseller list. After her last set of books which took place during the first world war, Hilary Green takes us back to world war two once again and this time we follow the escapades of two teenagers, half French, half British as they try to make their way back to England to join the fight for the allies. Along the way they are faced with much adversity, but also make friends and gain the respect of the resistance fighters for their bravery. Their mother also has a bit of a side story as she struggles to accept that the Germans occupying her country and her home are just ordinary people who dislike the war as much as she does. Like all the books I have read by Hilary Green this was tough to put down, and even better the ending left me thinking there could be a sequel. I for one would love at least one more story involving these wonderful characters. I know that their adventures and acts of bravery are far from over as there is still at least three more years left before V-E day by the end of the book. I can only hope there will be a sequel or two out of this story. I will be eagerly awaiting Hilary Green's next book, no matter what it's about.
"I have just finished Operation Kingfisher by Hilary Green.
WHAT A LOVELY BOOK!!!!!!!!!!!!
5 stars.
Please tell Hilary Green that I haven't given 5 stars since The Fox by Fredrick Forsythe. Operation Kingfisher is THAT good. When I came to the final "message personelle" i had tears in my eyes – not just because it was so appropriate but also because it was over.
I have read many by Hilary Greene but this is a triumph, thank you, thank you, thank you."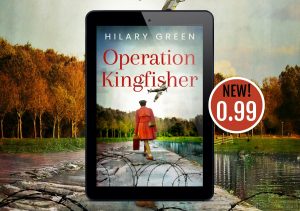 NOW AVAILABLE AS AN E-BOOK OR PAPER BACK. Use this link:: https://www.amazon.co.uk/dp/B09NRP8MKP