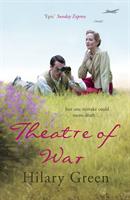 IT IS 1942. THE THEATRES OF WAR ARE NORTH AFRICA AND ITALY. ALL EYES FOLLOW THE FRONT BUT BEHIND THE SCENES A MESSIER WAR CONTINUES, AN IMPROVISED GAME OF SNATCHED TRIUMPHS, TERRIBLE MISTAKES AND TERRIFYING UNCERTAINTIES.
Cabaret singer by night, spy by day, Richard risks his life to help British servicemen escape from occupied France and get back to England.
Rose leads a group of high-spirited dancers travelling bombed-out BritaIn, enteraining factory workers as Hitler's bombers roar in the skies above. Then she is given orders to join the forces in the field, destination unknown.
Meanwhile, a phantom pianist, who has lost the love of his life, is following Monty's soldiers across the African desert, mocking the enemy's guns by playing Beethoven between the lines.
Rose picked up a magazine and flicked through the pages. A second later she felt as in the blood in her veins had ceased to circulate. She was staring at a photograph of a couple, the girl in evening dress, the man in army uniform. The girl was beautiful, with sleek raven-black hair drawn back in a chignon and huge dark eyes, but Rose's gaze was fixed on the man beside her. Tall and broad-shouldered, with dark hair, well-marked brows and a strong, determined chin, he was a good match for his delicate partner. Underneath the picture the caption read 'Miss Priscilla Vance, the niece of Sir Lionel and Lady Vance, with her fiancé Captain Richard Stevens, arriving at the Gala Ball at Covent Garden in aid of the Spitfire Fund.'

May looked at her. 'Is anything wrong? You look as if someone had walked over your grave.'
WHAT READERS SAID ABOUT 'THEATRE OF WAR'.
'A delightful and heady mix of spies, soldiers and high-kicking dancing girls, of forbidden love and friendship in the face of death. Who could ask for more?' Lancashire Evening Post.
'An unforgettable saga of love and loss in wartime.' Good Book Guide
'Epic.' Sunday Express.
'This was one of the best books I have read in a long time.'
'It had me gripped, just like all the others.'
'I just wanted to say how much I have enjoyed reading your books. I have just finished the third Follies book and am eagerly awaiting The Final Act.'
'I have just finished the third book in the Follies series What absolutely riveting and very sensitive books all three have been.'