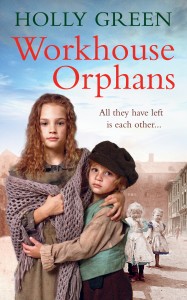 WILL THEY EVER ESCAPE THE WORKHOUSE?
LIFE HAS ALWAYS BEEN TOUGH FOR MAY AND GUS LAVENDER. THEIR FATHER WENT AWAY TO SEA, NEVER TO RETURN, AND NOW THEIR MOTHER HAS FALLEN VICTIM TO THE TYPHUS SWEEPING THROUGH LIVERPOOL. REGARDED AS ORPHANS BY THE AUTHORITIES, THE SIBLINGS ARE SENT TO THE BROWNLOW HILL WORKHOUSE.
LIKE ALL WORKHOUSES, BROWNLOW HILL IS THE LAST RESORT OF THE POOR AND DESTITUTE. SO MAY AND GUS WILL HAVE TO RELY ON EACH OTHER MORE THAN EVER IF THEY ARE TO SURVIVE THE HARDSHIPS TO COME.
The man led them down a narrow alley and up a flight of steps to a door, on which he knocked.
A gruff voice called, 'Come in.'
The man opened the door and put hand on May's shoulder and one on Gus's to propel them inside. 'The two new orphans, Governor.'
A man with a bushy beard and side whiskers was sitting behind a desk. 'Very well. Ask Mrs Court and Mr Taylor to come here.'
The man left and the one he had called 'governor' opened a big book and picked up a pen.
'Name?'
May's legs were beginning to shake. 'May Lavender, sir.'
'Age?'
'Five and a half, sir. I'll be six in May.'
'And the boy?'
'He's Gus – Augustus, sir.'
'Age?'
'He was three last August.'
The governor peered at her as if he thought she might be telling fibs. 'You are May, and your birthday is in May. And he is Augustus, and his birthday is in August?'
'Yes, please sir. It was our father's idea, I think. That's what my Mam told me.'
The governor peered at his book and muttered as if he was talking to himself rather then her. 'Father lost at sea, mother deceased. No other relations.' There was a knock at the door. 'Come in.'
Two people entered, a woman in a black dress with a white cap and apron and a man in a grey suit. The governor looked up.
'Ah, here you are. Two new inmates. May Lavender and her brother Augustus. I'll leave them in your charge.'
The woman held out her hand. 'Come along, May. You come with me.'
'And you come with me, boy,' the man said.
Gus looked at him and shrank back, grabbing May's hand.
May said, 'Please, sir, let him come with me. I always take care of him.'
'You may have done so,' the man said. 'But now he is in my care and he will come with me.'
'But why can't we go together,' May begged. 'He's my brother!'
'That's as may be. But boys and girls don't live together here. Gus will sleep in the boys' dormitory and be taught in the boys' classes and you will be sleep and be taught with the girls. That is how things are here.'
'But …' May began.
'Enough!' It was the governor's voice. 'You will learn not to argue, or you will regret it. Now, get along with you.'
Gus was still clinging to May's hand. She bent down to him. 'You must be a brave boy, Gus. Go along with the gentleman, like he asks.'
'No! No! I don't want to,' he wept, but the man stooped down and picked him up.
'You will have to learn to do as you are told, boy. Now, shut your noise.'
He headed for the door and as he carried Gus down the stairs May could hear him crying, 'Let me go, let me go! I want May! May! May!'
The woman grabbed May's hand. 'Come along. There's nothing you can do. He'll get over it.'
As she was led down the stairs May looked around her through eyes blurred with tears. 'Please, ma'am, where is this? It's not a palace, is it?'
'A palace?' The woman looked down at her and for a moment it seemed she was going to laugh. 'Whatever put that idea into you head? Don't you know what this place is?'
'No, ma'am. Mrs Johnson said a big house.'
'And you thought she meant a palace?' The woman's voice had softened. 'You poor mite. This is the workhouse.'
READERS COMMENTS.'
Workhouse Orphans is a fascinating and richly detailed book focusing on the poor of Victorian Liverpool and the world they live in.
In mid-Victorian Liverpool, two young children, May Lavender and her brother Gus are orphaned by the death of their mother. They are sent to the Workhouse, a cruel, cold place, where they are separated. Beaten by the teachers, starved and over worked, they manage to make friends and learn the skills they need to survive.
Finally escaping, May and Gus embark on difficult lives, always aware they are tainted by their past. May becomes a servant, and barely escapes an horrific fate to work in a department store, while Gus runs away to sea and becomes involved in the American Civil War.
Workhouse Orphans is a very enjoyable read. Holly Green has obviously done meticulous research for this book, and it shows in the level of detail. She clearly knows the history of Liverpool well, including the docks and the streets. I was fascinated by the scenes on the ships, and in the shops, and by the descriptions of Victorian Liverpool.
The lives of the two children, and their friends, manage to reflect the roles of the poor in Victorian England  abused, used, discarded and reliant on luck and friendship to see them through. Having said that, this isn'tt a bleak book. May and Gus are likeable characters, and manage to navigate their way through the many dangers they meet.
The characters are well-drawn, including the minor ones, and the places, not just Liverpool, but all over the world , are are vividly drawn. I knew nothing about Liverpool before reading this and now I want to visit.
I found Workhouse Orphans an absolutely compelling read that will appeal to those who like sagas of the poor and dispossessed making their way in the Victorian world."'
This is a great story following the lives of may and gus. Keeps you wanting more so hard to put down. Brilliant author. More books like this please Holly. Highly recommend
Brilliant book from start to finish really hard to put down.

This is a new author for me and wow what a writer, could not put this book Down, already pre ordered next book.