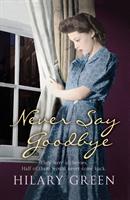 Diana 'Steve' Escott Stevens knows the risks. 
For twelve months she has fed and looked after agents preparing for a mission in France. She has been told they have a fifity-fifty chance of coming back
But she is young, brave and speaks French fluently. When she applies to join the Special Operations Executive she is readily accepted and sent off for training to prepare her for the field.
The training is demanding: sabotage, codes, hand-to-hand combat, parachute jumps. But all too soon she finds herself in a Lysander flying to France, where any mistake could mean capture, torture or death, for her and the very people she is trying to liberate.
The grass along the edge of the road was stiff with frost and long skeins of mist lay low over the airfield but above them the sky was clear, diffused with light from an almost full moon. Steve showed her pass to the sentry at the gate and drove on to park near the hangar. On the tarmac nearby the Whitley bomber's engines were already ticking over, the propellor blades catching the moonlight as they turned.

She held out her hand to her passenger. 'Adieu, Lucien.'

He shook his head at her. 'Au revoir, cherie. Never say goodbye …'
WHAT READERS SAID ABOUT 'NEVER SAY GOODBYE'.
'Since reading your books, I have been fascinated to learn more about the
work of the SOE in WW11 and am currently reading about Vera Atkins. Thank
you for making me more aware of the heroic actions of these brave men and
women.'
'I'd like to give you a big handshake on your recent book about the SOE and about my father Harry. I was really incredibly inspired by it…. I found that you had achieved an amazing immediate congruence with the whole mood and tenor of the time.'