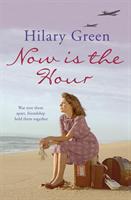 SEPTEMBER 1939, AND FOUR FRIENDS, ALL MEMBERS OF A SEASIDE VARIETY SHOW, ARE FORCED APART BY THE LOOMING WAR.
Beautiful chorus girl Rose is in love with Richard, a singer, but feels she cannot marry him because of the difference in their backgrounds. When he is called up she returns to her home in London, afraid she will never see him again.
Richard, broken hearted by her rejection, vows he will ask her again after the war – if he survives ….
Gay, asthmatic Merry, the company pianist, has to part with the object of his hopeless passion, the charismatic Felix. But Felix's only ambition is to enlist in the RAF and learn to fly Spitfires.
As they are struck by the brutality of war they realise exactly who and what is most important to them and despite the odds, and in terrible circumstances, they determine to find each other again.
It was dawn when the all clear sounded. Stiff and shivering, they clambered up the steps to the outside world. Rose heard the cries of despair before she got to the top of the steps, and as soon as she came out into the daylight she understood what had prompted them. The world they knew had utterly changed. Where there had been a busy, familiar street with shops and houses, buses and cars and bicycles, there was now a wilderness. Rubble was strewn across the road, broken glass was everywhere and everything was covered in a thick layer of brick dust. When they raised their eyes from this to find its source, the real horror struck them. Where rows of terraced houses had stood there were now huge gaps, like missing teeth, and on each side, still clinging to the walls of the remaining buildings, were the pathetic remnants of the inhabitants' lives – a wall decorated with nursery characters for a child's bedroom, a wardrobe hanging perilously in a corner, its contents scattered, a fireplace and above it a mirror, miraculously unbroken.
WHAT READERS SAID ABOUT 'NOW IS THE HOUR'.
This is a brilliantly evocative, insightful novel sure to keep you turning the pages right to the end. There is excitement, danger, pain and regret not to mention all-conquering love and enduring friendships. (The People's Friend.)
This is a book of spies, dangers, forbidden love, disappointments and friendship. An enjoyable story, the characters are likeable and you care about them enough to want to know what happens to them. It deals with an otherwise well-documented period in a fresh sort of way because we see the war from a different perspective. (HNS)
Dear Hilary

I am reading The Follies Series at the moment which I am enjoying very much. 
 I have read Now is the Hour and They Also Serve and have just started Theatre of War. 
  I am also looking out for The Final Act to complete the series.  I have become involved with the characters and care about them.

Your sincerely
Karen Bearder