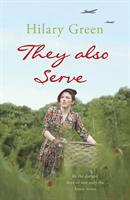 JANUARY 1941. DARK DAYS, BOTH FOR BRITAIN, STANDING ALONE AGAINST THE MENACE OF NAZI GERMANY, AND FOR FOUR FRIENDS TORN APART BY THE CONFLICT.
When Rose Taylor receives two proposals on New Year's Eve she has to face an agonising choice, which will separate her from all those she loves.
Richard Stephens has to come to terms with the shattering of the dreams that sustained him through the chaos of Dunkirk and the long months on the run as an escaped prisoner of war.
For beautiful Felix, badly burned when his Spitfire was shot down in flames, there is the prospect of weeks of painful surgery, and for his lover, the anguish of watching him suffer.
But as the months go by each of them finds the courage to face danger. And danger is on every side …
Exctiting, moving and brilliantly evocative, this heart-racing novel will keep you hooked from beginning to end.
As if there was no one else in the room, Richard moved up the table until he stood beside her and held out both his hands.

'Rose, I'm so sorry it's been such a long time. I know what you must have been thinking. I asked my mother to get in touch with you, but it seems she didn't and since I wrote that letter I've been on the run and there was no chance to write. But I'm here now. Eighteen months ago, when I asked you to marry me, you said it was too soon and that you thought my feelings for you wouldn't last. And I asked you, if i came back in a year's time and repeated my offer, would you reconsider – and you said you would. Well, it's been longer than that and my feelings for you haven;t changed. So now I'm asking you to keep your promise. Darling Rose, I've never stopped loving you. Will you marry me?
WHAT READERS SAID ABOUT 'THEY ALSO SERVE'.
The second part of Green's epic wartime saga. (Daily Express)
Leaves you holding your breath for the next installment This story of wartime sacrifices and life-changing decisions manages to grip your attention throughout. An exciting read. (HNS)