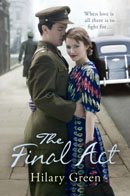 It is Spring 1944 but for dancer Rose, entertainer Merry, pilot Felix and spy Richard the end of the war is still not in sight. Friends have been killed, love has been lost, and it seems that the relentless violence and pain of separation will continue forever.
Desperately tired after living rough with Italian partisans, Richard makes a mistake behind enemy lines that results in devastating tragedy.
Rose, performing for the troops advancing across France, at last finds a man she feels she can love and is forced to make the most difficult decision of her life.
Felix, Merry's lover, is returned to him from the jaws of death only to be separated from him again by the demands of duty.
But while the battle rages on they will all fight for the future. In war and peace, in joy and despair, life continues – but never as expected.
On the 13th of June, one week after D-Day, Rose and her company were given their embarkation orders. No one told them where they were going but they were in no doubt that they were heading for France. The following day they put out from Weymouth on board a ferry converted for the duration into a troop ship and docked at one of the Mulberry harbours assembled off the Normandy coast. Driving inland, they passed through shattered villages, where scarcely a house remained intact. The roads were pitted with shell craters and churned into ruts by the tracks of tanks, and the bus bounced and jolted as it negotiated them. The remaining inhabitants stared in amazement at the convoy, and Rose could understand why. They must make a bizarre spectacle. First came a motorcycle outrider, then what appeared to be a London bus painted in camouflage colours and emblazoned with the letters ENSA and the words STAND EASY! Then came a truck and finally an officer in a jeep. Three miles back from the front line, with German snipers holding out in every village ENSA was here! It seemed hardly credible.
WHAT READERS SAID ABOUT 'THE FINAL ACT'.
This brilliantly imagined saga,the final book in the Follies Quartet, an epic series based on the the lives of the author's parents and their friends, is as exciting and fast-paced as it is deeply moving.
'Epic!' Sunday Express
'Compelling!' Publishing News
'An unforgettable saga of love and loss in wartime.' Good Book Guide.
'I didn't want this book to end…' Historical Novel Society reviewer
I would just like to thank you for writing one of my favourite books af all time! The Final Act is written so beautifully with an amazing storyline. I could re read this book forever!
Just wanted to say your books are some of the most touching, real and moving books I have ever read. I loved Rosamund Pilcher's 'Coming Home' but these 'Follies' books have taken their place in my heart.
I would certainly recommend any book written by you, as your characters are so strong and believable. Your stories are so gripping, they leave you on tenterhooks, wanting the next book in the series to see what happens to the heroes/heroines.