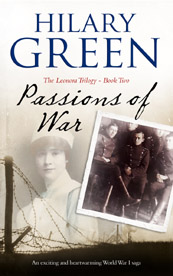 The year is 1914 and Britain is at war with Germany.
When her brother Ralph and her fiancé Tom head to the Front with the Coldstream Guards, Leonora Malham Brown must remain behind, unable to make use of her previous war-time experience tending wounded soldiers in the Balkans. But there is a deeper reason for her frustration at her forced inactivity: despite her fondness for her gentle fiancé, Leo's heart belongs to Colonel Sasha Malkovic, the dashing Serbian officer with whom she shared a passionate romance amidst the chaos of the battlefield two years earlier. But their love can never be, for Sasha has been betrothed since childhood to a girl he barely knows.
When finally she gets a chance to head to the Front with the FANY, the First Aid Nursing Yeomanry, Leo bravely confronts the dangers of war, including typhoid outbreaks and Zeppelin bombers, while never giving up hope that someday, somewhere, against all the odds, she and Sasha will be reunited.
On 26th October the advance party of six FANYs, together with three qualified nurses led by the redoubtable Sister Wicks assembled on the docks at Folkestone…As they made their way towards the berth where they expected to find the Red Cross yacht which was to take them across the channel they passed a hospital ship and saw stretcher after stretcher being carried down the gangways and laid out on the dock. There, a small party of men under the command of a tall, thin colonel in the uniform of the Royal Medical Corps, were collecting them and carrying them to a waiting train. It was a miserable day, with a cold drizzle falling, but the stretcher bearers could not keep up with the growing number of casualties being unloaded from the ship.

'There are so many of them!' whispered Marion Wilkinson, one of the youngest recruits, to Leo as they marched past. 'Where do you think they have all come from?'

'Ypres, I suppose,' Leo said grimly. 'According to the papers there is a big battle going on there. Poor devils, they shouldn't be left lying in the rain like that.'

When they reached the designated berth there was no sign of the Red Cross ship. Enquiries elicited the information that it was detained in Calais because of bad weather in the Channel.

'Right!' said Ashley Smith. 'Let's make ourselves useful while we wait. Forward march!'

The colonel was checking a list on a clipboard and looked up impatiently as the group halted and Ashley Smith saluted smartly.

'Who the devil are you and what do you want? Can't you see I'm busy?'

'Yes, sir,' Ashley Smith replied. 'That's why we are offering to help. We are members of the First Aid Nursing Yeomanry and we are fully trained in stretcher drill.'

'You? Carry stretchers?' He stared at them with an incredulous smile that came close to being a sneer. 'How long do you think you'd last, with those soft white hands of yours?'

'These soft white hands are probably capable of more than you will ever guess,' Ashley Smith responded curtly. She turned to the others. 'Right, ladies. You know what to do. Let's get busy.'
WHAT READERS SAID ABOUT 'PASSIONS OF WAR'.
Green uses the experience of Sasha, Leo, their families, and friends, to make "the war to end all wars" heartbreakingly realistic. Whether familiar with the events of 1914-1918 or not, readers in search of adventure and some romance will enjoy Passions of War and look forward to the concluding volume of the Leonora Trilogy. (HNS)
The second installment of Green's Leonora Trilogy (Daughters of War, 2011) finds Leo with fiancé-of convenience Tom back in mid–1914 London, recuperating from her work with FANY (First Aid Nursing Yeomanry) aiding the Serbs in the First Balkan War and from falling for Colonel Sasha Maklovic, who, after a round of Shakespearian mistaken identities, reciprocated her feelings though he is promised to another. Fact-crammed dialogue briefly summarizes the first novel, then Green hits her forceful writing stride when FANY friend Victoria says, "What a tangled world it is," referring to Leo's love for Sasha, Tom's for Ralph, Leo's brother, and "poor Luke," their wartime colleague who is in love with Victoria, who "treated him atrociously." No soap opera, this dramatic wartime romance is smartly compelling as Ralph spies on the Black Hand, doughboy enters the vernacular, the Bulgarians and Austrians escape through hostile Albania, along with retreating Serbs and accompanying FANYs, as the Balkan tinderbox flames. Green's exciting tale will gratify her steadfast readers and make new fans. (Booklist)