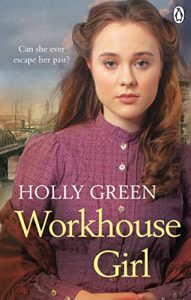 Patty Jenkins has come a long way from her poverty stricken days in Brownlow Workhouse. Her flair for baking has landed her a coveted position in the kitchens at Freeman's Department Store in Liverpool, where she creates elaborate cakes and pastries to serve at afternoon tea, and a fresh start finally seems within reach.
But when Patty catches the eye of a wealthy gentleman, she will do anything to keep his attention – a mistake which might cost her everything she has worked for. Will Patty be able to live the life she has dreamed of, or is she destined to be a workhouse girl for ever?
Miss Clarke's lips were drawn in a tight line, so that her voice sounded thin and clipped. 'Someone had obviously been in over night. One of the models had been displaced and the hat it was wearing was on the floor. The cloak, the one that Patty had asked about, was on the wrong mannequin. It was crumpled and smelt strongly of alcohol and cigar smoke.'
Mr Freeman's expression was sterner than ever. 'Patty, did you borrow that cloak and wear it last night?'
Tears were running down Patty's cheeks.  'Yes, sir, I did. I never meant it to be damaged. I thought I could put it back and no one would ever know.'
'Why did you do it? You must have known it was wrong.'
'I … I needed something warm to wear. I've only got a little velvet cape, or my old coat. I can't go out dancing in that. It ….' the words burst from her, 'it doesn't seem fair that some ladies have all those clothes, and I have to shiver …'
This is what readers say about this book:
A wonderful reading experience. I couldn't put the books down as the follow the lives and hardship of children in the workhouse if Liverpool. It explained how circumstances can change their aspect for th heir future lives. It also explains how woman were viewed in society and how certain woman pushed for change to how women/girls were educated to allow females to be educated the same as males. Brilliant book. I will miss all the characters.
I thoroughly enjoyed all the books in this series, such wonderful stories based on truth, can't wait now to read the frontline nurses series
A must read what else can I say just buy it and enjoy you won't be disappointed I'm sure of that.